The Text Blast System

That's Out Of This World.

Mass texting has never been so easy and affordable.

Sign Up Watch video
Easily Send Thousands of Text Messages or MMS Messages With a Click of a Button
At Saturntext.com, we have designed an awesome system for bulk SMS service that can be your go-to text blast app. We have used an incredibly simple and easy-to-use text blast platform that allows our users to quickly upload recipient lists, get quick and easy access to customer information and send out daily or weekly specials via text message blasts through our awesome bulk SMS service.
Import & Segment Your Customers Into Lists For Easy Re-targeting
Targeting is key to having a successful campaign. SaturnText allows you to segment your list each time you import or obtain more customers. When creating your text blast, you can easily select which list you'd like to send to. This will allow you to breakdown analytics and get a better understanding of engagement rates.
Share Images Quickly with Text Blast
It is statistically proven that customers are more likely to respond to images than plain text. Use this science to your benefit and include images in your messages with our attractive image texting package and text blast app, ensuring high engagement rates, and greater revenue.
The cheapest text messaging platform
Pay As You Go. No Monthly Commitments.
Cheapest
Starts at
1.2 cents
Bulk Discounts Available
Sign Up Now
| | | |
| --- | --- | --- |
| EZ Texting | 4.5 cents | Monthly |
| Call Multiplier | 7 cents | |
| Trumpia | 4.5 cents | Monthly |
| Textedly | 2.5 cents | Monthly |
| Simple Texting | 4.5 cents | Monthly |
| Slick Text | 6 cents | Monthly |
Prices as of July 21st 2020, prices may change, for accurate prices please visit their websites.
What is a Text Blast?
Text blast, also known as mass text messaging, enables you to send SMS messages to thousands of people all at once. It's a direct, easy way to grow your business, generate new leads while also retaining current customers, and increase sales. Add subscribe options to your texts to help recipients opt-in to your messaging, target your audience through customized segment lists, and reply quickly to customers with our intuitive Chat Platform.
Send Your Text Blast Now
90% of text messages are opened within 3 seconds. Ready to use mass texting to your advantage?
A great marketing campaign isn't much unless it's seen by a vast majority of your potential customers. Text blasts offers the most engaging marketing effort with open rates and interaction rates through the roof. The most common underlying theme in business failures is the lack of a robust marketing scheme that could assure the business's long-term success. Don't fall into this trap, and hop on SaturnText to increase your ROI and traffic!
Start Text Blasting Today
How To Send a Text Blast
1
Easily Send Thousands of Text Messages or MMS Messages With a Click of a Button
The very first step for sending a text blast is to have your recipients opt-in to your text marketing campaign. Your Textword is one simple word selected by you that recipients can text in order to start receiving messages going forward. Once they opt-in, their number will be saved to your text blast list. It's that simple! You can also easily create an auto-reply message with details on how they can opt-out, ensuring you stay compliant with text blast laws.
2
Send Your Text Blast Messages
Now it's time to start sending your text blast messages! Create messages that promote your products, let recipients know about any sales or events, and start growing your business. By utilizing our Chat Platform, you can reply directly to individual customers and answer any questions.
The Most Affordable Text Blast Options
Plain Text Messaging
Each 160 Characters
Starts at 1.2 cents & lower
MMS Messaging
(jpg,jpeg or png)
Starts at 4 cents & lower
Bundle Plans
Purchase in Bulk & SAVE!!
View

Bundled Plans
Allow Users To Opt-In By Texting "Subscribe" To Your Number
Once you get your message across to your loyal customers, you want to assure that you retain their following and sustain higher future visibility. How do you do that? Our text blast app has a great option that allows users to opt-in to future business SMS by texting "subscribe" to your number.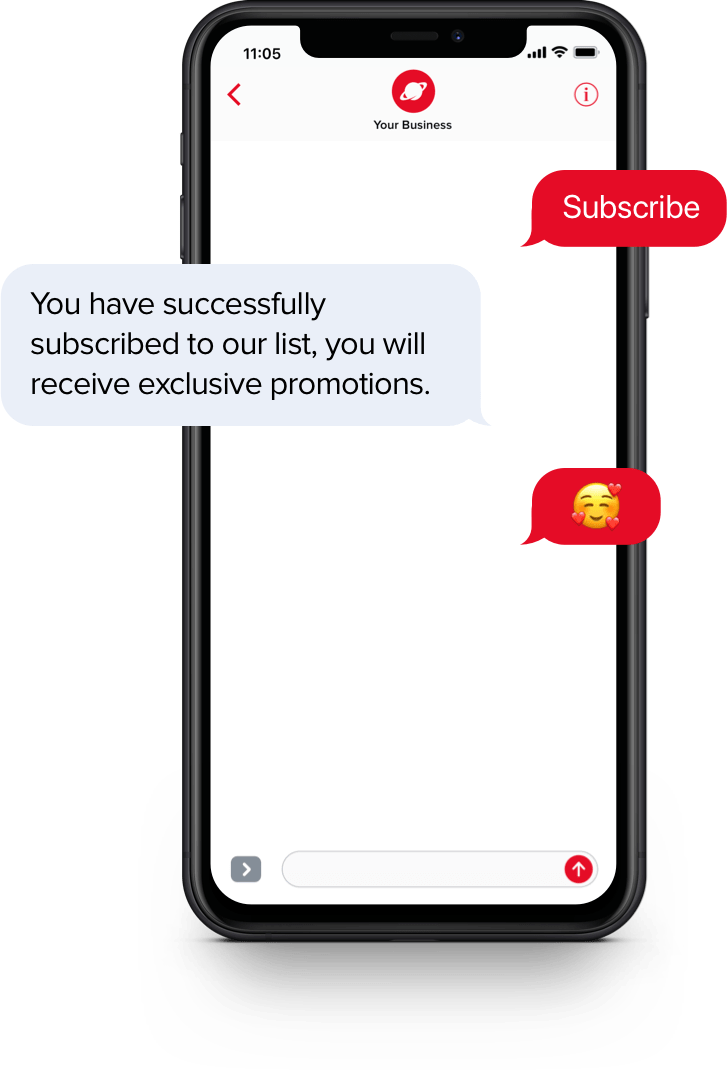 Instantly Respond To Incoming Text
Through Our Chat Platform
So you have successfully sent bulk SMS, targeted your potential customers, and availed the brilliant benefits of our text blast app. Great! Now, you need to be able to respond to your customers in a swift, hassle-free, and easy way to establish a lasting relationship with them. Our text blast platform makes this possible without any problem through our chat platform. Using our chat platform, you can ensure high responsiveness as you instantly respond to incoming texts.
Their Phone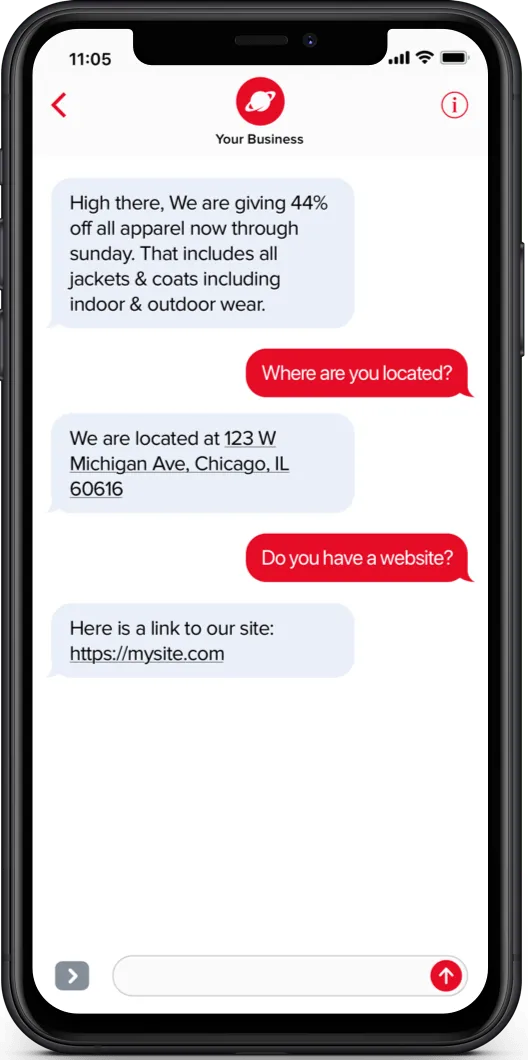 Your Computer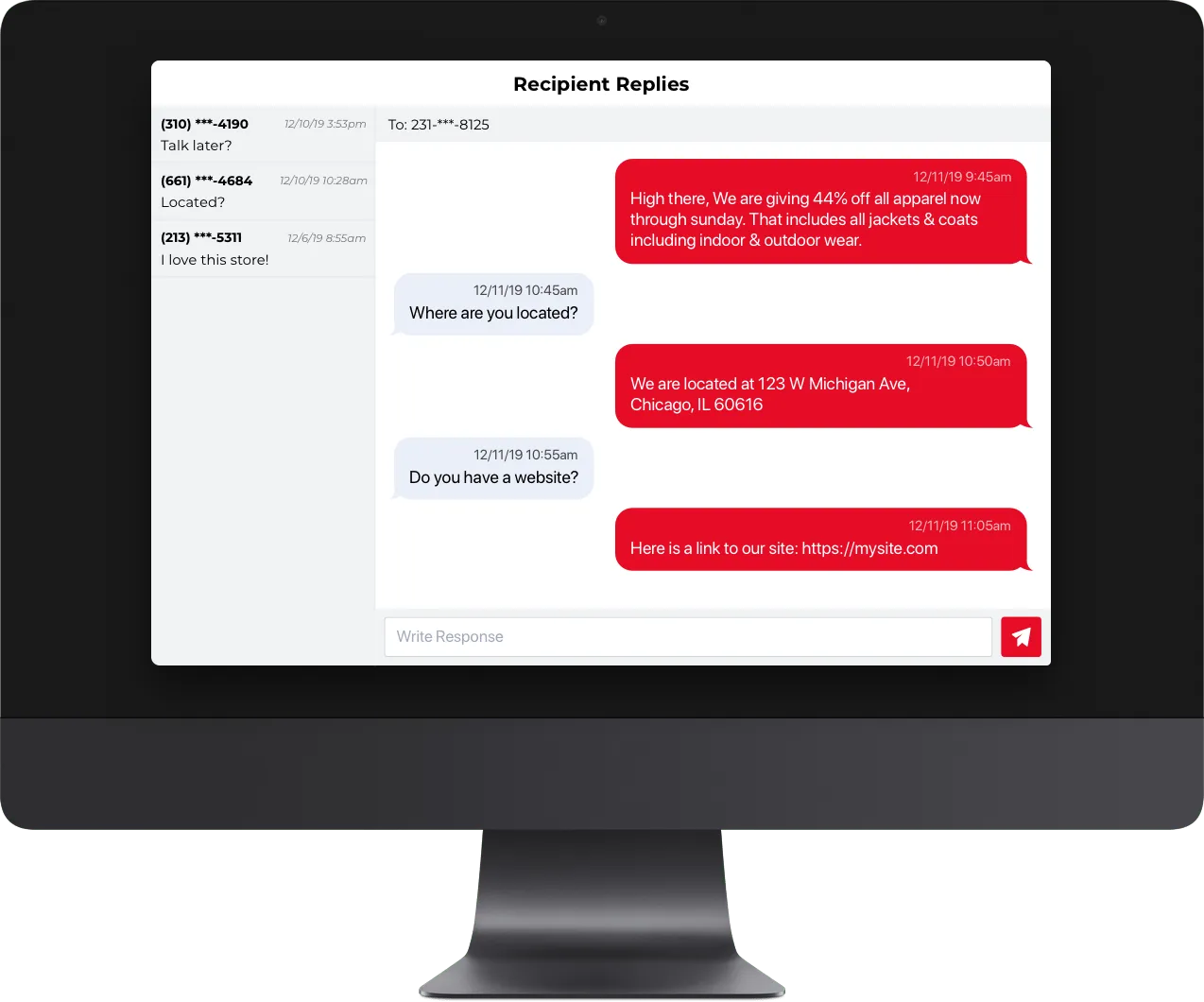 Send SMS Messages With The Premier Text Blast Platform
Lowest Price
Send more messages and increase your reach with the most affordable mass text service on the market.
Easy To Use
Skip the hassle of trying to figure out the logistics of mass texting - Get logged in quickly so you can start growing your business now, not later.
Connect With Customers
Send your text blast messages to customers and then reply directly to them via our Chat Platform. Never miss a single message.
Stay Compliant
Our messaging platform makes it easy to stay compliant with text blast regulations. Include opt-in and opt-out messaging for your mass texts.
Send MMS
Why only tell customers about a product when you can show them with high-quality images? Increase your engagement rates with MMS messaging.
Schedule Your Messages
Setup specific dates and times for your text blast messages to be sent.
Create Segmented Lists
Target audiences for specific campaigns with unlimited access to segmented lists.
Reliable Delivery
Feel confident your messages are always being delivered to your customers with our reliable delivery networks.
Customer Service Team
Have questions? Our Customer Service team is always here to help.
What's the Difference Between Saturn Text Blast Messaging and Traditional Texting?
Upload thousands of recipients and our system sends out individual SMS and MMS messages, with 100% privacy of client's information
Receive and respond to return texts privately
No limit to the number of recipients plus delayed texts to limit carriers from blocking messages
The ability to schedule multiple mass texts for future dates
Group recipients into categories to decide when and to whom each SMS text will be delivered
Easy-to-use analytics page that lets you monitor the results of your campaign
Limited to group messages, which allow each recipient to see the phone number of all the other recipients
Responses from recipients are sent to the whole group
Carrier limitations prevent sending messages to more than 50 individual numbers at one time
No option to schedule bulk texts for future dates
Have to individually select contacts to receive texts
No way to track and measure response or open rates
Grow Your Business with Text Blast
Expand Your Reach
Unlike other marketing channels, SMS marketing has a massive reach. With text message marketing you can easily stay connected with your customers living in remote areas. Since the potential of this medium is effective and limitless, it enables business owners to attract new clients without extending their marketing budget. Reaching your audience has never been easier with SMS blasts.
Retain Customers & Generate New Leads
The success of any business mainly depends on its capacity to retain current customers and attract new clients. You can do this by using effective SMS marketing strategies. Specifically, small businesses can benefit from seasonal advertising opportunities to achieve their short-term and long-term objectives. For instance, you can send your customers reminders about your available products and services. Also, some businesses use text message marketing to inform their customers about special offers and discounts.
Personalization
Deliver customized services tailored to your customer's needs and desires. Since large companies operate on such a massive scale, it is nearly impossible for them to deliver personalized services to their customers, and small and mid-scale businesses must leverage the power of this channel to attract new clients. Small business owners can use SMS marketing to inform their customers about any new product or service. Also, they can text potential clients to opt-in and become part of their SMS service to enjoy ongoing deals and discounts.
Improve Customer Satisfaction
According to marketing pros, the level of customer satisfaction that small and mid-scale organizations offer to customers is higher than that of large-scale companies and multinationals corporations. That's likely due to the fact that small businesses use the text message marketing channel extensively and more effectively - They use text blast services to interact with their customers, collect feedback, and to understand customer problems and needs.
Frequently Asked Questions
What is the best mass texting service?
The best mass texting service enables you to quickly and easily send text messages to thousands of recipients, all at an affordable price point. Using a mass text service shouldn't take hours to learn how to use and cost a fortune. At Saturn Text, we offer the lowest rates of any mass texting service on the market. Our online mass text site is straightforward and takes only minutes to get started, so you can spend less time with logistics and more time growing your business.
Can I send text blasts with my iPhone?
Text blasts work best when using a text blast platform. This is because group messages are limited to 10 recipients, making it very difficult to send mass texts through your cell phone. Additionally, group text messages with an iPhone or cell phone are not private - All phone numbers and responses can be viewed by the entire group. But with mass text servicing through Saturn Text, you can send an SMS to literally thousands of people while keeping everyone's phone number private. Additionally, if someone wants to unsubscribe to your text blast, they can easily do so with the click of a button through the message.
How much does it cost to send text blasts?
Most text blast services want to charge you 4 cents or higher for plain text messages. But with text blast services through Saturn Text, you can send plain text messages starting at 1.2 cents per character and send MMS messaging starting at 4 cents per character.
Is it legal to send text blasts?
Yes, it is legal to send text blasts. However, there are several laws and regulations you need to be aware of if you are sending mass text messages. They include (but are not limited to):
Having an opt-out option for recipients, which will need to be honored for five years. You can provide an opt-out option by listing one of these five words: STOP, UNSUBSCRIBE, END, QUIT, CANCEL.
Maintaining a Do Not Call (DNC) list of recipients who do not want to receive mass texts.
Only sending messages to those who have opted-in. For someone to opt-in to your text blast campaign, it is required that you provide them with clear details relating to the messages you will be sending them. Additionally, the recipient then must agree to receive your messages on their phones. A recipient can opt-in by using keyword texting, completing a paper form, or by completing an online form.
Sending messages during specific times of day, specifically after 8am and before 9pm.
How can a text blast platform help me stay compliant with text blast regulations?
Text blast services not only help increase your company's effectiveness and efficiency, but also help you to stay compliant in regards to consent, opt-in forms, and confirmation messages.
Consent
Similar to email marketing, SMS marketing is also dependent on permission-based marketing strategies. That means you'll require your target audiences to explicitly subscribe to your SMS service.
Opt-In Forms
Design your opt-in forms to explain the purpose of your text message marketing campaign. Make sure you offer value to your customers so that they can show more interest in your offers. You must also give them a clear idea of how often they expect to receive texts from your business - A text blast platform also help you remember to link to your privacy policy/terms and conditions in your message to show your credibility and trustworthiness.
Confirmation
Never bombard your new customers with announcements and promotions. In order to get their attention, you must have a clear and step-by-step SMS marketing process that you can use to engage your new subscribers. A text blast platform ensures your first text to a new subscriber is a confirmation message informing them that they have successfully subscribed to the service. You can also include a welcome note along with a certain benefit to make your new subscriber feel valued.
What tips should I consider before starting my text blast?
Ready to maximize your text blast campaigns? Here are some of the ways you can make the most out of this channel:
Know the Best Time to Send Text Blast Messages
Schedule your texts to send between business hours, as these are the times an average worker is able to read and respond to text messages.
Pay Attention to Your Business Cycle
SMS marketing is a foolproof way to drive immediate sales. There are many ways you can incorporate this strategy in harmony with your existing business cycle, including sending a mass text when you have a promotional offer on products.
Integrate an Omni-Channel Marketing Campaign
While text message marketing is powerful and effective on its own, it works best when used in collaboration with other marketing tactics. Therefore, make sure you utilize a variety of other mediums to create a better and more result-driven cross-marketing approach.
Learn more helpful tips at our Text Blast Blog.
Contact Us For Free Consultation
Fill out the information below